I have an innate fear of watching movies I know nothing about (I'm such a wimp in so many ways, I
know
). I'm always sure I'll hate them or that I'll be bored stiff. I realize this is ridiculous. Seriously, there is NO reason for this mindset except that I have a narrow mind. I'm sorry. (Also, occasionally you watch a movie you've never heard of -
Stargate
, for instance - and it's so wretched you swear you will never watch a movie without a preview again).
The fact that you can now watch previews on the Internet really helps me out because once I've seen a preview, I'm far more interested in the movie. Once I have some sort of idea what to expect, I'm much more open to the idea of seeing something new.

If I haven't seen a preview, the only other thing that will possibly convince me to see a new movie is if it features an actor or actress that I'm particularly fond of.


So, without further ado, let me present to you actors and actresses who I will watch, basically always:
You haven't aged as well as I might have hoped, but you did have some glorious years, especially those Remington Steele years.
I'm always surprised that no one knows who she is, when she's just so utterly fantastic.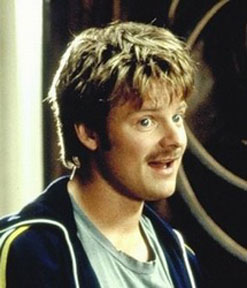 Seriously, I wrote about a dozen movie lines here before I realized it was in vain. There is not one funniest Steve Zahn line - he is ALWAYS funny. If you do not know who he is, rectify this QUICKLY.


I've never seen her in a movie I didn't like
I just think she's gorgeous. The End.


"I will tear you to pieces with my bare hands. . . or vicious rhetoric."
He's Will Smith. He always rocks. He probably always will (ha, pun completely unintended, but deeply appreciated).
This guy can act. Get thyself to amazon.com and buy yourself the first four Horatio Hornblower movies. And then return to buy the next four. And pick up Amazing Grace while you're at it.
Seriously, though, I can't be the only person who watches movies based solely on the main characters, can I? Also, I know the minute I post this, I will realize a hundred great people I left off this list.